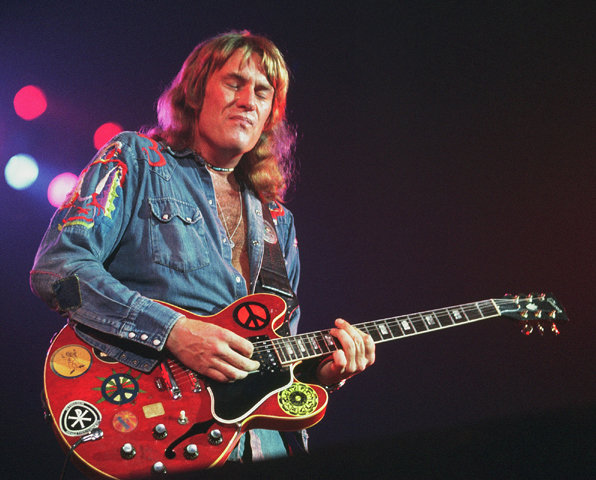 Alvin Lee

Alvin Lee (born Graham Barnes, 19 December 1944, Mansfield, England) is an English rock guitarist and singer. He began playing guitar at the age of 13, and with Leo Lyons formed the core of the band Ten Years After in 1960. Influenced by his parents' collection of jazz and blues records, it was the advent of rock and roll that truly sparked his interest and creativity, and guitarists like Chuck Berry(1) and Scotty Moore(2) provided his inspiration.

The Jaybirds, as Lee's early band was called from 1962, were popular locally, and had success at Star-Club in Hamburg, Germany (since that time lead guitarist Lee also took lead vocals), following The Beatles there the same year. But it was not until the band moved to London in 1966 and changed its name, first to Jaybird, dropping 'The' and 's' to make it sound more contemporary; then to Blues Yard (for one gig at the Marquee Club); and finally to Ten Years After (TYA), that international success beckoned. The band secured a residency at the Marquee Club, and an invitation to the Windsor Jazz & Blues Festival in 1967 led to their first recording contract. The self titled debut album surprisingly received play on San Francisco, California's underground radio stations and was enthusiastically embraced by listeners, including concert promoter Bill Graham, who invited the band to tour the United States for the first time in the summer of 1968.

Audiences were immediately taken by Lee's distinctive, soulful, rapid fire guitar playing and the band's innovative mix of blues, swing jazz and rock, and an American love affair began. TYA would ultimately tour the U.S. twenty-eight times in seven years, more than any other UK band.