John Lawton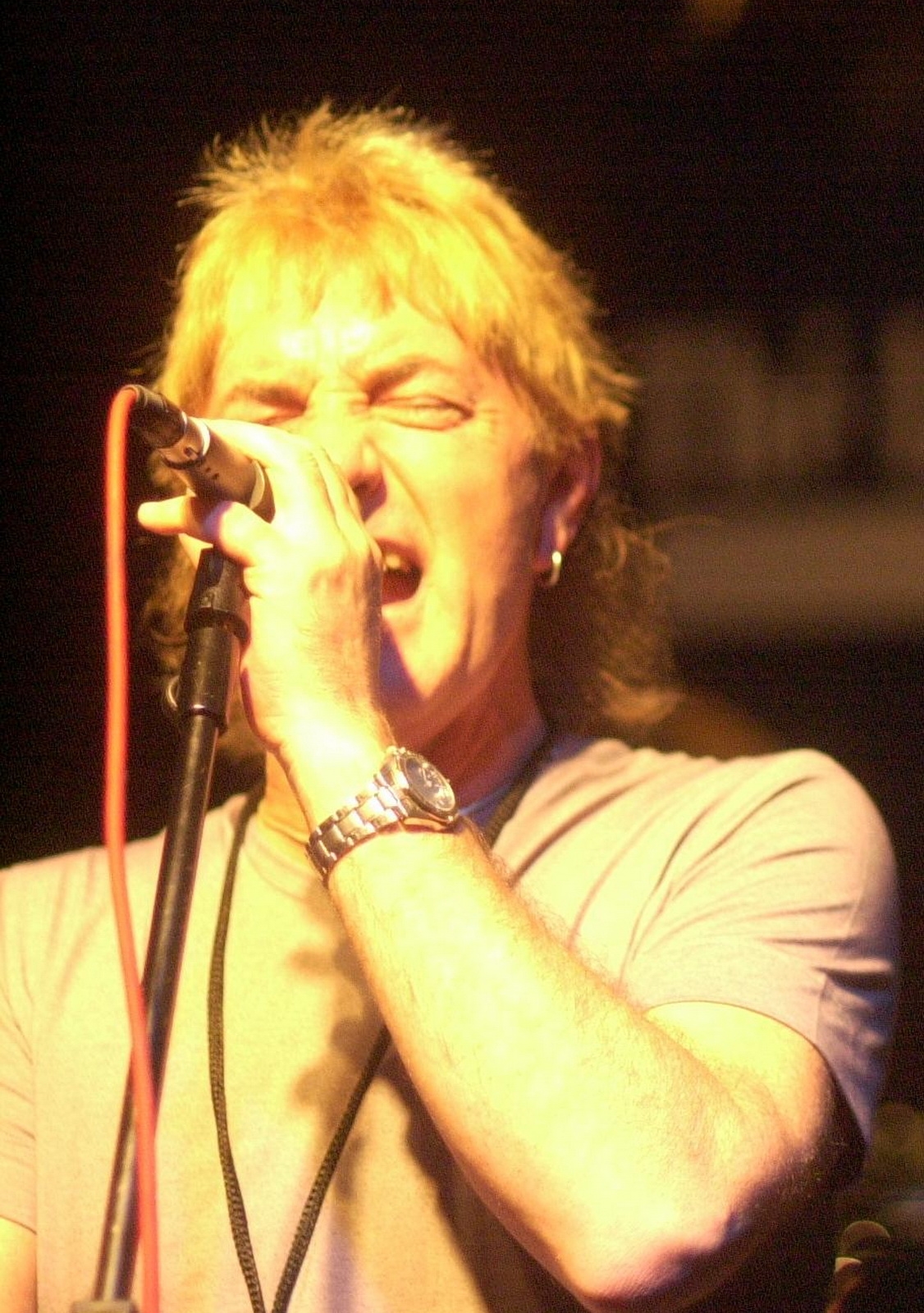 Biography :
John Lawton (born 11 July 1946 in Halifax, West Yorkshire, England) is a rock and roll and blues vocalist best known for his work with Lucifer's Friend, Uriah Heep and the Les Humphries Singers.

Lawton began his musical career in North Shields, UK, in the early '60s with The Deans, a bunch of kids who decided at random that he should be singer. He then moved on to West One and later Stonewall which included John Miles, Vic Malcolm (later Geordie) and Paul Thompson (later Roxy Music).

After Stonewall finished their stint at "Top Ten Club in Hamburg in '69, Lawton decided to stay in Germany, after having been offered the job as singer with legendary German rock cult band Lucifer's Friend (1969-1976 and 1979-1995) with whom he recorded 9 studio albums.

He also joined the Les Humphries Singers, in the early '70s (which included the Eurovision Song Contest in '75).

In 1976 Lawton joined Uriah Heep as Lead Vocal, recording the albums "Firefly", "Innocent Victim", "Fallen Angel" and "Live in Europe '79", touring Europe and the USA until September '79.

During his longstanding career Lawton has worked with some big names of rock, on various projects, including Roger Glover's "Butterfly Ball" live at the Royal Albert Hall in 1975, featuring David Coverdale, Glenn Hughes, Ian Gillan and Twiggy. He sang on Eddie Hardin's "Wizard's Convention II" with Chris Farlowe, Denny Lane, Paul Jones and Tony Ashton.

Lawton worked with some of the finest record producers, including Tony Clarke (Moody Blues), Jimmy Miller (Rolling Stones) and Harold Faltermayer (Pet Shop Boys), who produced the titles Lawton sang on the Lenny McDowell Project "Lost Paradise".

Lawton sang with German rock band Rebel, later known as Zar, on three albums, during the late '80s -'90s including their hit singles "Line of Fire" and "Eagles Flight" and moved on to Volker Barber's classical project "Excalibur". He also sang on several German commercials, including the "Colgate Gel" TV spots, the "Peter Stuyvesant Travel" spots, the Stuyvesant single "Come Together" and a stint for Harley Davidson Motorbikes.

Lawton formed GunHill, later known as JLB - John Lawton Band, in January 1994, touring the UK and Europe. In 1995 he briefly rejoined Uriah Heep for 2 weeks, to tour South Africa and Austria with Deep Purple, filling in for their singer Bernie Shaw, who was suffering from voice problems at the time.

Inspired by German top producer Robert Papst and his partner Reinhold Hoffman, Lawton re-recorded one of the Les Humphries Singers' favourites, the big '70s hit "Mama Loo", in January '98.

In August 2000, his solo CD "Still Paying My Dues To The Blues", produced by Robert Papst, was released in Europe, UK and Scandinavia, by Hypertension Music Hamburg and distributed through EDEL Germany. This album has been hailed by many as the best work John has ever done.

During the 4th Uriah Heep Annual Convention in London, May 2000, plans were made for a one-off concert by the so-called Hensley/Lawton Band. Lawton was joined by former Heep keyboardist Ken Hensley, for the first time 21 years after Lawton's departure from Heep in 1979! With them were Paul Newton (Heep's original bassist), and 2 members of Lawton's band - Reuben Kane on lead guitar and Justin Shefford on drums.

They played a collection of old Heep classics and some of Hensley & Lawton's solo songs and the concert was recorded for a CD release called "The Return".

In 2001 Lawton teamed up with Ken Hensley to form the Hensley Lawton Band. After extensive touring, during Spring and Summer of 2001, culminating with a concert in Hamburg, Germany, featuring a full orchestra and a new rendition of Heep's old classic "Salisbury", both Ken and John returned to their respective solo careers.

On 7 December 2001, both John Lawton and Ken Hensley appeared on stage with Uriah Heep during the annual Magician's Birthday Party at the Shepherd's Bush Empire in London. This concert was recorded and released as a CD/DVD.

The John Lawton Band - "JLB" was taken on by Classick Rock Productions in 2001 to record the acoustic CD "Steppin' It Up", which features John & Steve Dunning. "One More Night" Live at the Mean Fiddler, CD & DVD, was recorded in 2002, which was followed in 2003 by JLB's "Sting In The Tale" CD, an original studio rock album. Later that year followed another Live CD & DVD "Shakin' The Tale". JLB had been touring extensively with their last gig in Hamburg, Sept. 2004, when Lawton decided to take an indefinite break.

In May 2006 Lawton joined forces with Dutch guitarist Jan Dumée (ex-Focus) to form the On The Rocks project. On The Rocks - "OTR" feature Brazilian musicians Ney Conceição on bass, Xande Figueiredo on drums and Marvio Ciribelli on keyboards. Lawton and Dumée wrote and recorded the tracks for the debut album "Mamonama", released in October 2008.

In September 2008 John Lawton appeared on stage at the Heepvention 2008, with former Uriah Heep members Ken Hensley, Lee Kerslake and Paul Newton, together with Jan Dumee from the OTR project.

Meanwhile John Lawton activates in Bulgaria with B.T.R. and from time to time with Sunrize - both bulgarian bands, sometimes featuring Ken Hensley.

Since three years (2010 is the fourth) John Lawton has an already traditional "July Morning Fest", at 5:30 AM at Kamen Briag (Bulgaria) on the Black Sea's shore, 40 clicks south from Romanian border.